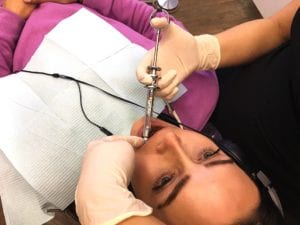 When most people visit the dentist for treatment, they often associate it with freezing, and numbness. Although it is a safe and necessary part of the procedure, it's important to know how it works and how long it will last.
Dental Freezing or anesthetic is defined as "medication that produces the temporary loss of feeling or sensation", and is used during treatment as pain control.
There are two types of anesthetic:
Topical Anesthetic – A topical gel rubbed on your gums, creates a temporary numbing around the area of the injection.
Local Anesthetic – This solution is injected near a nerve in your mouth to numb your teeth and surrounding area.
Freezing times are usually different based on where in your mouth treatment is being done.
When the dentist is working on the top of your mouth, they will typically only freeze a few of the teeth. Whereas on the lower part of the mouth the dentist will block freeze an entire area, which may include your cheek, lip, chin and tongue. This freezing usually lasts longer on your lower jaw as well due to the bone density.
Each person processes dental freezing at different rates; and depending on the type of anesthetic used it can typically range from two to six hours. 
Some side effects can happen as a result of being frozen; such as biting your lip, cheek or tongue, so be sure to use care when eating and try to stick to soft foods as well as nothing too hot. In rare cases, a nerve can get stimulated during the injection, which can lead to paresthesia: numbness or pain that lasts a few weeks to months. Another rare side effect can be an allergic reaction from the anesthetic, if you think you've had an averse reaction to freezing before, be sure to let us know.
If you know you have a busy schedule after your appointment and wish for some of the freezing to be gone, we do have oraverse (an anesthetic reversal) available. Be sure to ask your dentist about this, and we can give you more information.
Dental Freezing is extremely safe and we try to take all the necessary measures to make sure you are comfortable during your appointment. If you have any questions or concerns be sure to ask us at your next appointment, or contact us to find out more.