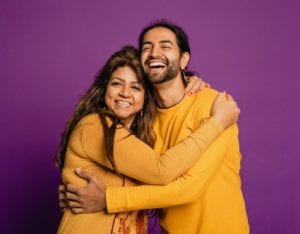 Your smile is one of the most valuable natural assets that you have. Smiling plays a huge part in our social interactions. It can make people feel good, offer comfort, and even reduce stress.
Sometimes we don't feel confident in our teeth and smile, we hide it behind our hands or simply don't smile at all. Although you may not realize it, this can negatively impact your mental health.
Each time you smile your brain feels really happy, and it improves your emotional state.
Smiling activates the release of feel-good-messengers that work towards fighting stress. When a smile flashes across your face; dopamine, endorphins and serotonin are all released into your bloodstream, making not only your body relax but also work to lower your heart rate and blood pressure.
Serotonin release can reduce stress, and dopamine increases our feeling of happiness. Low levels of both these hormones in your body can be associated with depression and aggression.
In other words, smiling can trick your brain into believing you're happy which can then spur actual feelings of happiness.
We believe that all smiles are unique and beautiful. You do not need to have the "perfect Hollywood mouth" to be confident smiling. To us a healthy smile is a perfect smile.